Navigating the Medicare Market as a Senior Caregiver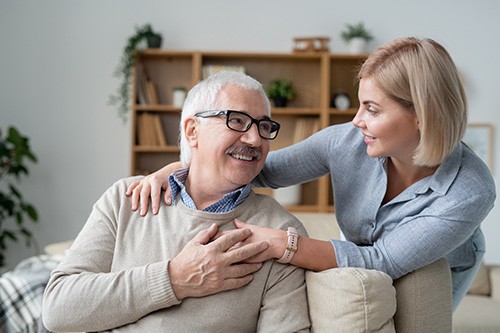 We want the best for our parents. For years, they've supported, encouraged, and raised us – and now's the time to return the favor. 
As our parents age, we may have added caregiving tasks in order to assist them, such as driving them to appointments or assisting with household chores. For some, this caregiver role has extended to helping with or making important decisions, such as healthcare coverage.
If you find yourself navigating the Medicare market as a senior caregiver, know that you are not alone. We're here to walk you through the Medicare basics and gain confidence when choosing the right health insurance plan for your loved ones. 
Overview of the Medicare Program
Medicare is a federal health insurance program designed to offer basic healthcare coverage to those over 65 and those under 65 living with a disability. 
Medicare health insurance is broken out into different sections, called "Parts." Each of the parts of Medicare help to cover costs for specific healthcare services. 
Medicare Part A

covers inpatient care and hospital visits and is part of Original Medicare.

Medicare Part B

extends coverage to preventive care and medically necessary services and is part of Original Medicare.

Medicare Part C

is offered by private insurance companies and is essentially an alternative to Original Medicare with additional benefits.

Medicare Part D

specifically covers prescription drug needs.
Additionally, Medicare Supplements (MediGap) are designed to provide coverage in areas the standard Medicare Parts may not include, such as copayments or coinsurance.  
Most people are automatically enrolled in Original Medicare (Parts A & B) when they turn 65. Those wishing to enroll in Medicare Part C, D, or Medicare Supplements must do so themselves. Each person's situation is unique, and it's entirely up to each beneficiary how they wish to obtain healthcare coverage.  
Who Qualifies for Medicare?
The requirements for Medicare eligibility are different based on age.
If your parents are 65 and older, they will be fully eligible for Medicare as long as they're a U.S. citizen or legal permanent resident. 
If you parents are under 65, though, they must meet one of the following criteria:
They have been receiving Social Security Disability or Railroad Retirement Board (RRB) benefits for 24 months prior to the desired date of enrollment.  

They have been diagnosed with Amyotrophic Lateral Sclerosis (ALS). 

They have been diagnosed with End Stage Renal Disease (ESRD) and have undergone dialysis or a kidney transplant.  

They have been diagnosed with a neurocognitive disorder, such as dementia or Alzheimer's Disease.  
How You Can Help Your Parents with Medicare
When it comes to helping your parents with their Medicare plan, there are two different roles that you can take: either as a consultant offering helpful advice to your parents as they make their Medicare choices, or as the medical power of attorney who makes the decisions and enrolls on their behalf. 
For those looking to fulfill a consultancy role, the best thing you can do for your parents is to learn their needs and the Medicare market. This involves a bit of research on your end and an understanding of how to have conversations and give helpful advice to your loved ones. While you aren't able to enroll in a Medicare plan for them, you are able to help them through the process and be by their side when enrolling.
For those who are appointed as medical power of attorney, you will take a more active role in your parents' healthcare coverage decisions. As the legal representative empowered to make health decisions for your loved one, you will have the power to both choose and enroll in a Medicare plan for your family member. It's helpful to have a general understanding of what your parents need and the Medicare market before 
For either role, there are a few important things to keep in mind when comparing plans.
All healthcare-related costs.

Find a budget that your loved one is comfortable with prior to searching for Medicare coverage. Keep in mind, health costs can include premiums, deductibles, copays, and coinsurance. 

Preferred network.

If your loved one has been seeing a healthcare provider for years and does not want to switch, make sure the plans you compare include all preferred providers within the network. 

Medications.

Each insurance carrier offers a different list of medications that they cover, so it's important to understand what medications your parents take and that they will be covered under the plan.  
Above all – the best way to help your parents understand the Medicare market is to ask any questions that you have. Don't be afraid to go through any details you would like clarity on; there are no unimportant or unnecessary questions when it comes to your parents' healthcare coverage. 
Enrolling Your Parents in Medicare
In most cases, your loved one will be automatically enrolled in Medicare Parts A and B at 65 if they are a U.S. citizen and eligible for Social Security benefits as a result of employment history. 
For those who need to manually apply for Medicare benefits or who wish to enroll in additional benefits beyond Original Medicare, there are certain times of the year where you can make these changes. Once you've identified the best Medicare plan for your beneficiary's needs, the next step is enrolling them in coverage during the appropriate enrollment period.
Initial Enrollment Period (IEP) – Begins 3 months before their 65th birthday and ends 3 months after their 65th birthday.

General Enrollment Period (GEP) – Annually from January 1

st

– March 31

st

.

Annual Enrollment Period (AEP) – Annually from October 15

th

– December 7

th

.

Medicare Supplement Enrollment Period – Begins the month your beneficiary turns 65 and lasts a period of 6 months. 

Medicare Advantage Enrollment Period – Annually from January 1

st

– March 31

st

.

Special Enrollment Period (SEP) – Only applies to qualifying circumstances and typically lasts 60 days. 
You don't need to worry about your parents signing up for Medicare each year. However, each year you'll have a chance to review the coverage and change plans.
What Are the Steps to Sign Up for Medicare Advantage and Supplement Plan?
It helps to have a general understanding of the Medicare market and the needs of your parents before talking to an agent about enrollment. 
Find the health insurance professional you want to work with. 
For those looking for coverage beyond Original Medicare, you'll need to speak to either a licensed health insurance agent or an insurance carrier in order to get your loved one enrolled. 
Gather all necessary information
When you're ready to assist your parents with enrolling in Medicare coverage, be sure to have these things easily accessible before taking to an agent: 
Beneficiary's Red, White, and Blue Medicare Card 

Method of payment – If your premium is due 

Beneficiary's SSN 

The names of your beneficiary's medications 

Preferred Doctors

And, if you're the medical power of attorney: Medical POA Documentation
By having all of these items on hand, your conversation will go much more smoothly. 
Once you have the health insurance professional on the phone, they will help you and your loved one enroll in the best plan for their needs. You'll talk through different coverage options and walk you through the necessary paperwork to get your parent covered. If you're consulting your loved one, they will need to be on the phone with you. If you are the medical power of attorney, you can make these changes in enrollment by yourself. 
The Experts at Find The Plan are Here to Help You Understand the Medicare Market
While helping your parents with Medicare can seem overwhelming, you can take comfort in knowing that the team at Find The Plan is here to help you walk through the process and answer any questions you may have. We'll work with you and your loved ones to simplify the Medicare market and feel confident that mom and dad have the right plan for their needs.  
As a health insurance brokerage, we have access to any marketplace plan. We offer an unbiased recommendation and have no vested interest in what healthcare provider you choose; we are truly looking out for your best interests. Our team can help you find and enroll in either a Medicare Advantage or Medicare Supplement plan for your loved one that works for their healthcare needs and budget. 
To start, we recommend you use our PlanMatch tool. This tool helps us learn a little bit more about you, your parent, and the health coverage you're looking for. After you complete the quick quiz, you can either reach out to our team directly or schedule a time that's convenient for you. We're here and ready to help!