Breaking Down Medicare Health Insurance
Let's find the right coverage for your needs.
Medicare Part A

The most essential element of Medicare, Part A covers inpatient care such as hospital visits, short- and long-term care.

Medicare Part B

Part B is an extension of your Medicare coverage that focuses on outpatient and preventive care services, such as medical equipment, clinical research, and home health care.

Medicare Part C

Also known as the Medicare Advantage Plan, Part C combines the coverage of other Parts in a comprehensive, privately-offered package.

Medicare Part D

Medicare Part D covers prescription drugs, giving you peace of mind about your medication expenses.

Medicare Supplements

Medicare supplements are insurance plans that fill the gaps in your Medicare coverage — like copayments, coinsurance, and deductibles.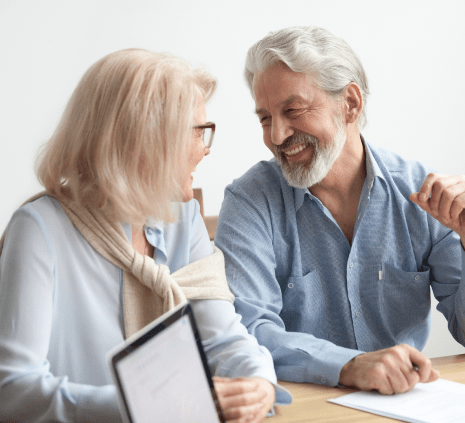 Medicare Insurance Advisors
Simplify Your Options To Help You
Make The Right Decision
Our experienced advisors will help you Find The Plan that fits your needs and budget.
Free with no hidden costs and fees

Find your plan in as little as 15 minutes

Access to 50+ health insurance carriers

Guidance throughout the enrollment process
Explore The Best Coverage Options
How Does Medicare Health Insurance Work?
01
Meet Your Agent
Contact us to meet your dedicated agent.
02
Tell Us What Matters
Discuss your insurance needs and enrollment status.
03
Review Your Options
Choose the right coverage plan for you.
04
Get Enrolled
Sign up for your Medicare plan and start receiving benefits.
How You Can Enroll in Medicare Health Insurance - And When

While most people get enrolled in Medicare automatically, certain circumstances require some people to enroll manually. Find out which group you fall into.

Medicare Health Insurance Guides

Still have some questions about Medicare? Browse our comprehensive guides for information designed for easy reading.
Medicare Insurance Advisors
Simplifying Your Path To Medicare Coverage
The requirements for Medicare eligibility vary based on your age. While everyone aged 65 or older is eligible for Medicare benefits, individuals under the age of 65 must meet one of the following criteria:
You've been receiving Social Security Disability or Railroad Retirement Board benefits for 24 months prior to your desired enrollment date.
You've been diagnosed with Amyotrophic Lateral Sclerosis (ALS).
You've been diagnosed with End Stage Renal Disease (ESRD) and have undergone a kidney transplant or are on dialysis.

Once you're eligible for Medicare, you can enroll during one of the following enrollment periods:
Initial Enrollment Period (IEP) - begins 3 months before your 65th birthday and ends 3 months after your 65th birthday
General Enrollment Period (GEP) - annually from January 1st - March 31st
Annual Enrollment Period (AEP) - annually from October 15th - December 7th
Medicare Supplement Enrollment Period - begins the month you turn 65 and lasts a period of 6 months
Medicare Advantage Enrollment Period - Annually from January 1st - March 31st
Special Enrollment Period (SEP) - only applies to qualifying circumstances and typically lasts 60 days.
To learn more about the Medicare enrollment periods, visit our Medicare Enrollments page.

You're only able to join, switch, or drop your Original Medicare or Medicare Advantage Plan during the following enrollment periods:
Initial Enrollment Period (IEP) - begins 3 months before your 65th birthday and ends 3 months after your 65th birthday
Annual Enrollment Period (AEP) - Annually from October 15th - December 7th
Medicare Advantage Enrollment Period - Annually from January 1st - March 31st
Special Enrollment Period (SEP) - you may qualify for a Special Enrollment Period (SEP) if you lose or need to alter your Medicare plan due to certain life events and circumstances, such as changes in your employment status or residence. If you lose coverage, the typical period of eligibility lasts 60 days.

In addition to costs and coverage, finding a Medicare plan to fit your lifestyle should be one of your top priorities. Plans come in a variety of shapes and sizes - from plans tailored for fixed-income, to plans which include travel and out-of-network coverage benefits. Some of your most important considerations should include; Costs, Coverage, Doctor and Hospital Choice, Prescription Drugs, Your Other Coverage, Quality of Care, and Travel.

Original Medicare consists of Parts A and B, and is the traditional program offered directly through the federal government. Medicare Advantage plans are offered by private insurance companies who contract with the federal government to provide Medicare benefits. With original Medicare, you can go to any doctor or facility that accepts Medicare. Medicare Advantage plans have fixed networks of doctors and hospitals for you to visit. Learn about the other key differences in coverage on our blog post, or if you have questions, call our dedicated team of Medicare professionals.

Medicare is an overarching term that actually includes several different healthcare plans, also known as Parts. Each Part is designed to cover specific aspects of your healthcare:
Medicare Part A - covers your in-patient care and hospital visits
Medicare Part B - extends your coverage to include preventive care and medically necessary services
Medicare Part C - provides the coverage included in Parts A and B, plus other valuable health benefits
Medicare Part D - covers a wide-range of prescription drugs
Medicare Supplements or Medigap Insurance - designed to provide coverage in areas that the Parts of Medicare fail to cover, such as copayments or coinsurance.

Choosing the right Medicare Part D plan can help you effectively maintain your costs and health. Be sure to consider the following factors before enrolling in Part D coverage:
Do you take or require specific medications?
Do you want extra protection from high prescription drug costs?
Do your expenses need to be balanced throughout the year?
Do you need coverage for medications you currently take, or do you want coverage as a safety measure?
To learn more about Medicare Part D and how to enroll, view our Medicare Guides or Medicare Enrollment pages.
Didn't Find What You Were Looking For?
Explore The Latest Insights
Everything You Need To Know About Medicare Health Insurance
Posted on: 04.05.2023.

Posted on: 03.09.2022.

Posted on: 01.27.2022.
Take It From Our Clients
Who Found Their Plan

Jim - Medicare
"Something I've Never Experienced"
My agent's attention to detail and quality of explanation was something I've never experienced.

Valerie
"Exceeded My Expectations"
My advisor made the process extremely easy and found a plan that exceeded my expectations!

Lauren
"I Am Forever Grateful"
Thank you for all your help getting me through this insurance maze. I could not have done it without my friendly and helpful agent. I am forever grateful.

Henry
"Someone Who Cares"
I appreciate that you took the time to explain every detail and compare plans. You are what I call "someone who cares for their customers."

John
"Exactly Who I Needed"
I was in panic mode on the final day of Open Enrollment. My advisor was exactly who I needed to patiently guide me through my healthcare decision-making.

Kathleen
"My Advisor Was Great"
My advisor was great about breaking down the spaghetti maze that is health insurance to find the right plan.

Gibran
"Turned Around My Day"
I had been struggling with setting up insurance, and my advisor totally turned around my day by putting me in a plan that works well for me and my family.