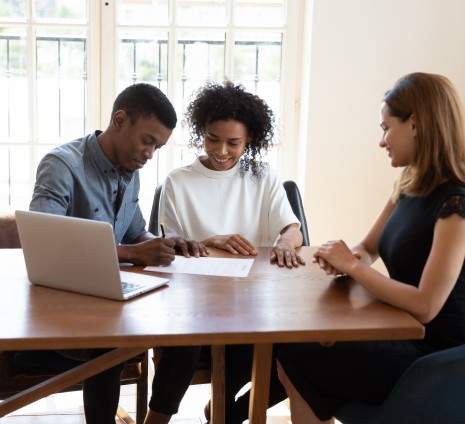 What Makes Our Health Insurance
Plan Options Different?
As your partner and advocate, we take an unbiased and personalized approach to finding you the right coverage. Here are the key benefits of choosing Find The Plan as your health insurance partner.
Free with no hidden costs and fees 

Find your plan in as little as 15 minutes 

Access to 50+ health insurance carriers 

Guidance throughout the enrollment process
Costs To Consider
When Choosing Your Health Insurance Plan
Signing up for health insurance can be confusing, but our experts are here to guide you every step of the way.
Premiums

Your premium is the monthly out-of-pocket expense that pays for health insurance coverage. Costs vary, but advisors can help you find a plan that's affordable for you.

Deductibles

A deductible is the amount that you pay for medical expenses before your insurance starts to kick in. It's important to know the specifics around your deductible and when it resets.

Copayments

A copayment is a flat fee you pay for certain medical expenses, such as a doctor visit, while the insurance pays for the rest.
Why Get Insured?

The right health insurance plan should be customized based on your needs and prevent you from unexpected costs.

Did You Know?

We help over 35,000 customers find health insurance coverage annually.
How Do Health Insurance Plans Work?
Health Maintenance Organizations typically provide you with a large network of healthcare professionals and facilities to choose from, offering integrated care and a focus on prevention and wellness.

Preferred Provider Organizations give you more freedom to choose your healthcare providers compared to HMOs. However, PPOs add-on extra costs if you choose to visit a specialist outside of your network.

Exclusive Provider Organizations offer some of the most comprehensive coverage plans, but treatment outside of your network typically isn't covered unless it's an emergency. Under your EPO plan, you can benefit from a wide network of specialists without a referral.

Point-Of-Service Plans combine the low costs of HMOs with the comprehensive coverage of PPOs. However, they also require you to have a referral and pay extra if you wish to see an out-of-network specialist.
How To Get Your Customized Health Insurance Plan

Our experts can help you enroll in a health insurance plan that's specific to your needs.

Things To Know - Health Insurance Guides & How-To's

Have more questions about the health insurance enrollment process? Check out our learning guides!
Health Insurance FAQs
Understanding your coverage is one of the most important aspects of choosing a health insurance plan. At a minimum, most plans will cover a predefined set of services required by the Affordable Care Act (ACA) called essential health benefits (EHBs). EHB's ensure that health plans cover care that patients need including:
Emergency Services
Ambulatory Patient Services (Outpatient Ambulance Treatment)
Hospitalization (Such as Surgery)
Pregnancy, Maternity, and Newborn Care (Pre- and Post-Natal)
Mental Health and Substance Use Disorder Services - Including Behavioral Health Treatment (Counselling and Psychotherapy Included)
Prescription Drugs
Rehabilitative and Habilitative Services and Devices (Services or Devices to Help People with Injuries, Disabilities, or Chronic Conditions Gain or Recover Mental and Physical Skills)
Lab Services
Preventative & Wellness Services and Chronic Disease Management
Pediatric Services - Including Oral and Vision Care (Note: Adult Dental and Vision Coverage aren't EHBs)
These benefits are required for all plans offered through the Health Insurance Marketplace, or private health insurance plans offered in federally facilitated marketplaces.

Depending on your situation and what's important to you, the cost of your health insurance will vary. Your personal healthcare needs, as well as age, income, location, and number of family members included in your coverage factor into your health insurance costs.
For general reference, the 2020 average monthly health insurance premium for individuals was $456 and was $1,152 for families, but this isn't always the case. Understanding the relationship between what's included in your health coverage and the associated costs can help you choose the right health insurance option.

The best way to find affordable coverage is to shop around to compare different plan offerings, monthly premiums, annual out-of-pocket costs, and other important factors based on your health situation. The good news is – you don't have to go through this process alone. You have the option to partner with a health insurance agent.
A health insurance broker is a licensed professional with the ability to help you navigate the healthcare benefits market from the initial consultation to helping you sign up for the best plan for your needs.
While the health insurance market can seem overwhelming and overly complicated, your advisor is trained to simplify the process and sift through health coverage plans to find one that best suits your needs.
During your conversation with a Find The Plan agent, we'll cover topics like how you use your health insurance, what you're looking for in a plan, and what prescriptions your coverage needs to include. We're experts in the field and have access to a variety of insurance carriers, so you can rest easy knowing that we'll compare numerous options before recommending a health coverage plan for you.

Despite what you may hear, there isn't necessarily a clear-cut "best" health insurance company or carrier - benefits will vary from plan to plan, so you should evaluate the options based on your needs. The best health insurance option for you will depend on the type of coverage or services you need, your budget, and what plans are available in your area. Keep in mind that where you live will determine which insurers you have access to, so your coverage options will vary from state to state.
Didn't Find What You Were Looking For?
Everything You Need To Know About Health Insurance
Posted on: 08.04.2023.

Posted on: 06.01.2023.

Posted on: 05.25.2023.
Take It From Our Clients
Who Found Their Plan

Jim - Medicare
"Something I've Never Experienced"
My agent's attention to detail and quality of explanation was something I've never experienced.

Valerie
"Exceeded My Expectations"
My advisor made the process extremely easy and found a plan that exceeded my expectations!

Lauren
"I Am Forever Grateful"
Thank you for all your help getting me through this insurance maze. I could not have done it without my friendly and helpful agent. I am forever grateful.

Henry
"Someone Who Cares"
I appreciate that you took the time to explain every detail and compare plans. You are what I call "someone who cares for their customers."

John
"Exactly Who I Needed"
I was in panic mode on the final day of Open Enrollment. My advisor was exactly who I needed to patiently guide me through my healthcare decision-making.

Kathleen
"My Advisor Was Great"
My advisor was great about breaking down the spaghetti maze that is health insurance to find the right plan.

Gibran
"Turned Around My Day"
I had been struggling with setting up insurance, and my advisor totally turned around my day by putting me in a plan that works well for me and my family.