Health Insurance for Hairstylists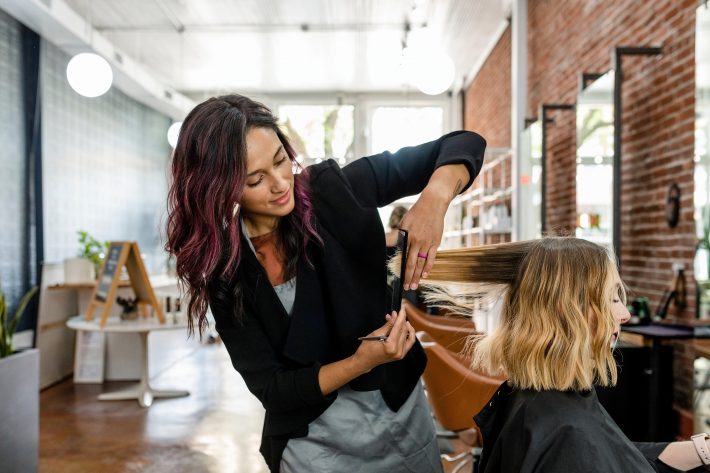 Are you a hairstylist who is on their own when it comes to finding health insurance? Many hairstylists work as independent contractors which puts all the responsibility on their shoulders when it comes to finding health coverage that will take care of their needs.
When it comes to being an independent hairstylist your time is valuable and you most likely never have enough of it! You also have many expenses to worry about paying without also needing to navigate the health insurance field which can be extremely confusing.
Finding affordable health insurance that can cover all your business liabilities can get hectic. The first step in choosing health insurance for hairstylists is to search all the available options. In this article, we will explore the types of health insurance hairstylists need and the general health insurance options for hairstylists.
Health Insurance Options for Hairstylists
Following is the list of health insurance options you can opt for as a hairstylist:
Business/Employer-Provided Health Insurance
Business or employer-provided health insurance can be one of the health insurance options for hairstylists who are working as W-2 employees. This is usually a lesser-known choice and is not available for all hairstylists. However, there is a catch to enrolling in this health insurance program. If you opt to choose this health insurance for your employees, it can make them ineligible for other health insurance exchanges provided by the state or Federal government as it is prohibited by the Affordable Care Act. So, look carefully at the benefits of the business or employer-provided health insurance before choosing it for your salon.
Spousal or Parental Coverage
This can be another practical health insurance choice for married hairstylists as they can get health insurance coverage from the employer of their spouses under the plans offered by family healthcare. Additionally, hairstylists who are 26 or younger can benefit from the healthcare plan of their parents. It can be an excellent choice for hairstylists who are at the beginning of their careers and cannot manage to pay a hefty amount to have health coverage.
Group Coverage Via Association Membership
Group health insurance plans are generally less expensive than individual or family health insurance plans. Getting membership in one of the associations can be one of the most economical health insurance options for hairstylists. These plans are offered by different social and religious associations. You can look for professional hairdresser associations that supply health benefits to hairstylists.
One thing about group health insurance programs is that you would not find fancy health insurance benefits included in major medical plans. But this could be an excellent option to get covered for even some large medical bills at an affordable price. This option covers all the benefits most hairstylists are looking for and is becoming exceedingly popular.
Although getting group coverage through an association membership is considered an economical health insurance choice for hairstylists, you might need to pay a small membership fee to be part of the association. This fee is very negligible and would not be a large fee. Additionally, part or all the premiums you pay for health insurance you get might be tax-deductible.
Individual Health Insurance Coverage
Hairstylists and beauticians who are not able to or cannot afford to join a group insurance plan offered through their employer, spouse, or parental plans have the option of getting a health plan through a private insurance company. The Affordable Care and the Patient Protection Act protect the healthcare rights of individuals who are earning four times less than the federal poverty level. These people can get subsidies on their premium plans that are adjusted according to their income level. You can explore online to look for a plan through a health insurance exchange provided by the state or federal government or by using an insurance broker like Find the Plan.
What Should You Look for in Health Insurance as a Hairstylist?
With diverse options available by different insurance companies and government and private associations, it can get tricky to choose a plan that can be a practical option for your health issues. Although, it might be near to impossible to get a plan that supplies every benefit you are looking for, here is how you can make a wise choice while searching your health insurance options.
Give yourself plenty of time to explore all your available options. Look in-depth at what benefits they are providing, how much you can save, and if their plans are affordable according to your budget. The only way to choose the best health insurance plans is to know and study all of them.
Affordability is certainly an important consideration, but make sure the quality of care is not compromised. A health insurance plan that does not supply personalized treatment access to the hospitals and doctors, especially in the region you are in, is of no use.
Look for a Plan that Matches Your Budget
If you have options that supply access to a wide range of hospitals and doctors, make sure to review the discounts they are offering. Take advantage of the plan offering the best rates.
It is essential that your health insurance plan provides you with 24/7 access to doctors and hospitals.
Easily Accessible Online Tools
Most insurance companies have online tools that can help you not only look for the plans they are offering but will also allow you to compare them in terms of the health benefits they include. Use these online tools wisely to find the most suitable and lucrative plan for you.
The Wrap-Up
You can find several practical health insurance options for hairstylists. Different companies offer health insurance for hairstylists who work as an employee in a salon, own a salon, or visit their clients' homes to supply their services. Take your time to explore your health insurance options before deciding. If the options seem overwhelming, an insurance broker, like Find the Plan, can help you find the plan that best fits your needs and budget without costing you anything to use.